So sitting at the Dr office today waiting to see the doctor the hubby leans over and says "umm babe your eyebrows are starting to look like mine..." (not sure what I am doing with my face in this picture)
Sorry about the close up
But to prove his point... Yeah they have gotten REALLY out of control!
But in my defense the last time I got them done was a
DISASTER
(you know the lady with crossed eyes?
) and I needed to let them fill in as to have them fixed... I think its time...
I have also posted on the other blog about todays round of Chemotherapy if you would like to stop in and see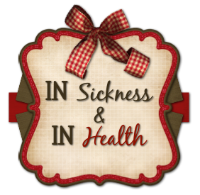 PS If you want to know why I have to cut my eyelashes I will tell you my secret.